3 rooms apartment for rent Vilniuje, Senamiestyje, Sodų g.
| | |
| --- | --- |
| 1 sqr. m. rent price: | 15 € |
| | |
| --- | --- |
| Number of rooms: | 3 |
| Area of flat: | 60.00 sqr. m |
| Year of construction: | 1940 |
| Floor: | 3, 3 storey building |
| House number: | 11 |
| | |
| --- | --- |
| Condition: | Fitted |
| Heating: | Gas |
| House Type: | Brick |
Declaration of residence
With furniture
Internet
Domestic equipment
Naujai suremontuotas, dar negyventas erdvus 3 kambarių butas Vilniaus senamiestyje. Virtuvė sujungta su svetaine, miegamasis, darbo/vaiko kambarys bei atskiri tualeto ir vonios kambariai.

Bute itin aukštos lubos, dideli langai, autonominis dujinis šildymas, nauja buitinė technika, nauji baldai. Iki laiptinės patekimas galimas ir iš parko, ir iš gatvės pusės pro rakinamus vartus. Tiek laiptinė, tiek kiemas yra rakinami. Taip pat yra galimybė automobilį parkuoti uždarame kieme. Buto langai orientuoti į vidinį kiemą, transporto triukšmas negirdimas. Draugiški, jauni kaimynai.

Butas yra autentiškame daugiabutyje, sparčiai atsinaujinančioje senamiečio dalyje - Sodų gatvėje. Šalia seniausias miesto turgus - Halės turgus, centrinė Vilniaus stotis, gausu kavinių, kepyklėlių, maisto parduotuvių.

Minimalus nuomos terminas 12mėn. Prašomas depozitas.
Nuomos kaina 890 eur/mėn + komunaliniai mokesčiai.
Pagal susitarimą priimame su gyvūnais.

Tarpininkavimo mokesčių nėra.

---

Newly renovated (you would be the first to live there!) spacious 3-room apartment in Vilnius Old Town.
The kitchen is connected to the living room, bedroom, office/children's room and separate toilet and bathroom.

The apartment has extremely high ceilings, large windows, autonomous gas heating, new appliances, new furniture. Access to the staircase is possible both from the park and from the street side through a locked gate. Both the staircase and the courtyard are locked. There is also a possibility to park the car in the closed yard. The windows of the apartment face the inner yard, the traffic noise is not heard. Friendly, young neighbors.

The apartment is located in an authentic apartment building in the rapidly renovated part of the Old Town - Sodų Street. Next to the oldest market in the city - Hall Market, Vilnius Central Station, there are many cafes, bakeries, food shops.

Minimum rent term 12 months. Deposit required.
Rental price 890eur / month + utilities.
We accept pets with the agreement.

There are no broker fees.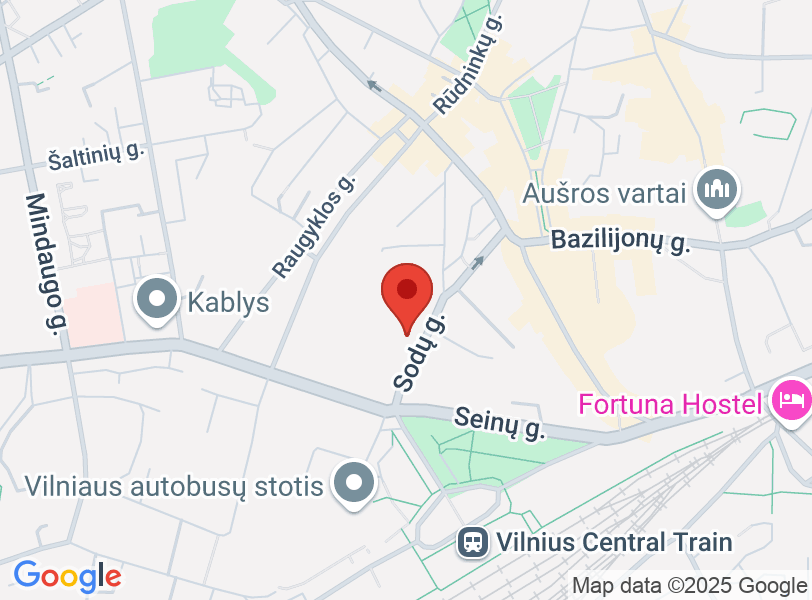 VIew Google Maps
Price

Price: 890 €



Make a request

Contacts